The Correlation of IELTS Malaysia and CEFR Scale on your English Level.
In this IELTS Band Score to CEFR Scale, Foreign students and workers that intend to study and work abroad will most likely get asked to fulfil a specific assessment and IELTS Test to meet the minimum level prior to offer and enrollment.
Most of us go nuts when asked to do IELTS preparation and Test Exams, this can be daunting for those who are not native speakers or lack the needed language environment to hone the language. Our English course Malaysia helps student and workers to determine their English level before advancing foreign study and work.
What is CEFR?
Common European Framework of Reference for Languages: Learning, Teaching, Assessment
Also abbreviated as CEFR, CEF, or CEFRL
It is a measurement to determine the speakers' fluency level in specific languages in different countries.
Companies and Educational Institutes assess the applicants' language capability.
CEFR aims to give the method of learning, teaching and assessing Applicable to language fluency.
The CEFR classifies linguistic elements into 4 groups: reception (listening and reading), output (spoken and written), conversation (spoken and written), and mediation (translating and interpreting).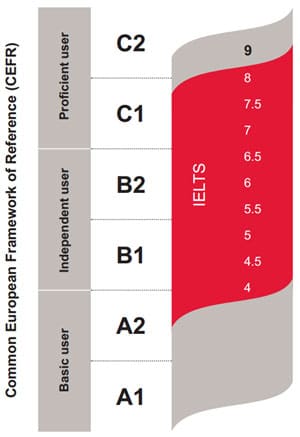 The Common Reference Levels in CEFR
With all 4 elements of language fluency, there are six Common Reference Levels (A1, A2, B1, B2, C1, and C2) which are elementary, pre-intermediate, intermediate, upper-intermediate, advanced, and proficiency.
Foreign students will find the following picture useful as it shows the level of achievement needed in the IELTS Test, you can work your way up the CEFR scale, and polish your English fluency to match your goal in the IELTS Test preparation and result.
The six levels of the CEFR scale:
Elementary, pre-intermediate, intermediate, upper-intermediate, advanced, and proficiency.
CEFR categorizes English language users into three Level Groups three Level Groups, each level consists of Two explanatory levels.
Level group
Level
Description
A
Basic user
A1
Breakthrough

Ability to discuss and use simple sentences and words that are aimed to satisfy actual meaning.
Capable of asking and responding to the personal background like residence, people they know, and the items they hold.
Can easily communicate with everyone as long as they are willing to support and speak softly.

A2
Waystage

May grasp phrases and concepts relating to subjects that required quick response (e.g. Individual and family particulars, groceries, map directory, jobs).
Capable of engaging in common and regular work that requires a clear exchange of knowledge on everyday, common topics.
May convey clearly and concisely about their past experiences, present surroundings, and situations at times.

B
Independent user
B1
Threshold

Able to catch the ideas of plain input on common subjects typically faced at work, during schools, at entertainment, etc.
Can handle the majority of events that may occur when moving in a region where the English language is widely used.
Able to output plain and clear language on relatable or self-interested subjects.
May succinctly give the causes and explanation for beliefs and goals while describing encounters, emotions, visions, desires, and objectives.

B2
Vantage

Able to comprehend solid and conceptual concepts of connected text, relating to technical conversation throughout their knowledge.
Can communicate with native speakers with a level of improvisation and clarity that allows frequent engagement, free of any stress on both persons.
Able to write texts that are both concise and thorough on a broad topic explaining a perspective on an incident by weighing the benefits and downside of different choices.

C
Proficient user
C1
Advanced

Ability to digest a multitude of complex, extended statements and identify deeper meanings
Possess the ability to speak effectively often without pausing and searching for words.
Able to adapt and use language well enough for academic, professional, and social functions.
Can output writing that is comprehensible, well-organized, and precise on complicated topics while demonstrating good control over the utilization of organizational design, connections, and punctuation.

C2
Proficiency

Can better comprehend just about anything spoken or written.
Able to summarize data via sources in oral and papers, reassembling opinions and narratives into an eloquent conclusion.
May communicate freely, quickly, and expertly, identifying subtler tones of message despite the most challenging circumstances.
Read more details about IELTS Malaysia online.