A1 English level (Elementary) The Breakthrough
English Level A1 (Elementary) so-called the Breakthrough is foundational, at this level, we can observe student interactions in simple situations using common elementary words via their first-time experience with a new language.
The Common European Framework of Reference for Languages (CEFR) is widely used in labelling students' spoken and written levels, English is one of the languages included.
There are six reference levels in CEFR, which are separated into three categories: basic users for levels A1 and A2, independent users for levels B1 and B2, and competent users for levels C1 and C2.
English proficiency at A1 level (Elementary)
Is A1 a Beginner?
Based on the official CEFR guidelines, A1 speakers can speak for their immediate needs, they are able to comprehend and articulate rather basic sentences.
Plus, A1 students can identify themselves and others, as well as question and answer individual facts like residing hometown, what they do, and who they know.
So the answer is Yes. If the other person speaks suitably and slowly, A1 students may interact easily.
A1 Student is self-sufficient in plain dialogues, say, as a tourist in an English-speaking state. They may not be proficient enough to dig into academic or professional subjects.
What is A1 English Proficiency?
The following are brief checklists are organized further for education purposes, this clean language check will help you in assessing your English level, or aid in Teacher assessment to determine a student's English level. Let's see what they are:
To pass as an A1 student, you can:
make introduction in easy and fundamental greetings.
do a brief telling of your hometown to the audience and share others' cities.
discuss family and workmates, and their characteristics and looks.
sharing of your preferred cuisines and placing easy takeout orders.
everyday tasks or schedule appointments with coworkers and buddies.
do a simple guide on map and navigation to your home.
Share your fun activities and pastimes, and make plans with friends and coworkers.
register, check out a hotel, and make payment.
Learn about shopping items, do simple buying, and send back damaged goods.
do a description of the present weather and offer ideas for activities based on the forecasts.
sufficient level check on clothes details and request clarification from the sales assistant.
speak with a doctor relate to health in broad vocabulary and mention regular medical signs.
How long does it take to learn A1 English?
Generally, A1 is a beginner stage for someone that has no prior environment settings or speaking experience.
The study progress is based on the English class format and the student, an average student can expect 60-80 hours of English course sessions for achievement.
Over this, we recommend the Intensive English Programme (IEP) if you are planning on picking up the language in less than 3 months.
Big Ben Academy offers Offline Physical face-to-face English classes and Online remote study for students who require One to One sessions with English private tutors in Malaysia.
If you prefer personalized individual goals and customized experience, Customizable English Course in Malaysia / Private Tutor English Class can be helpful.
For everyday conversation starters who face stutter and word search challenges, it is worth getting English Course For Speaking to get you up for social networking.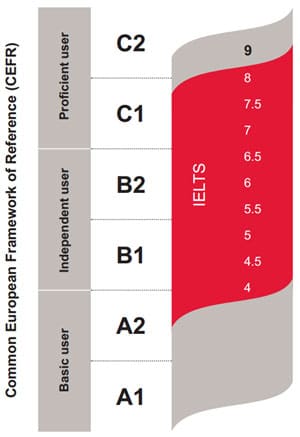 Summary of the student capability at A1 English Level.
What can an A1-level English student do?
simple and regular expression.
slower, but careful clear speech with pauses.
clear and basic sentences using familiar terms and phrases
For a full guide, check out The Correlation of IELTS and CEFR Scale on your English Level
To determine your English Level, take a test.