English Club
Love English? Great! You'll love this Club — we've got loads planned.
Whether you are studying for a qualification at school or want to get ahead in your career, our English club is the perfect way to make sure you are prepared.
Why You Should Join English Club?
An English Course For All Levels
Big Ben Academy English Club offer a class dedicated to all levels and organised to all students levels. Our native English teacher will encourage you to speak English confidently and fluently.
We have a very friendly environment where you will have the chance to learn by sharing experiences and helping each other.
Moreover, you will learn English through a range of fun and interactive activities that center around grammatical structures, vocabulary items and idioms, and will also be sent a monthly schedule including dates, times and locations of our regular school activities.
What are the activities for English club?
Professional Interview and Meeting Activities
Individual/Group Presentations
Debates and Discussions
Warm Up Games
English Language Songs, Movies and more
Course Objective
Speaking and Writing Skills
Phonetics/ Pronunciation
Grammar Tips
Professional Series - Meetings, Interview Tips
Social English
Idioms, Riddle and Games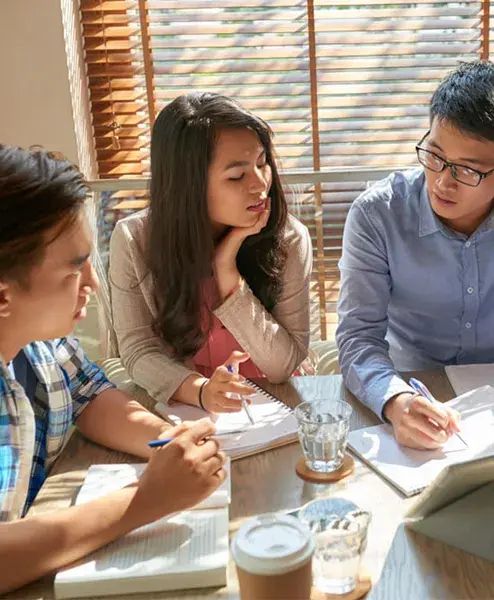 This level is the first step for every person who hopes to learn and speak English. It's designed for those who are not native speakers and very limited vocabulary while speaking English.
You can use English for everyday tasks and activities. You can also understand common phrases related to topics such as personal information and employment.
If you're already experienced in English, this level will allow you to strengthen your ability to describe things and situations in the conditional and past tenses, develop your speaking skills, and improve your coherence.
Designed for our more experienced students, you will continue to learn new words in English and improve your skills in analyzing and understanding structured and coherent texts.
Class Size
6-12
Students
Pax Max /class
Location
K.L.
(malaysia)
Online
Enroll Our Course Instantly!
Ready to take the challenge
Check out now
Frequently Asked Question: English Club
Why should you choose our English club?
Our interactive English Club learns in a unique fashion way, and the majority of individuals will bring new discoveries to each other with what has not been introduced
Better than typical classes and English training centre. Are you losing touch on a conversation in the upcoming IELTS oral test?
Then get into the club exchange, you will see where you are and look up to imitate the character you want to be.
The English Club in Practical Learning Matter.
Writing and Talking Opportunity
Properties of speech and Accent
A professional line of English Applications - Conferences, Job Guides
Metaphors, Riddles, and Plays in Modern English
Academic case studies from different fields.
Program Module
Coursebook specially
designed by BBC London
Classes held by
CELTA Qualified Native teachers
12 students max
per class
Education Excursion
for students
You Might Also
Interested In…