C2 English Level (Proficiency) The Mastery
English level C2 refers to Independent language users who can conduct challenging job and research efforts. Students at this level can converse with other English speakers as they progressed from the English level of A1, A2, B1, B2, and C1.
The Common European Framework of Reference for Languages (CEFR) is widely used in labelling students' spoken and written levels, English is one of the languages included.
There are six reference levels in CEFR, which are separated into three categories: basic users for levels A1 and A2, independent users for levels B1 and B2, and competent users for levels C1 and C2.
C2 English Level is deemed as Proficient User in CEFR scale, this English learning stage is also referred to as The Mastery.
What does C2 Level English mean?
By the Council of Europe, being a C1 Level English speaker can indicate that you are an official Proficient user. You may be referred as Bilingual if you have reach English and another language native speaker level, you:
Can capture contents easily in written or audio form.
Your speaking speed are done at a swift, natural tempo.
Can understand texts that are confusing, highly variable, and literary.
What is C2 English Proficiency?
The following are workable checklists organized attempt for education purposes. This neat language check will help you in assessing your English level, or aid in Teacher assessment to determine a student's English level. You can do what Level A1 to C1 can do and meet the new study goal, let's see what they are:
To pass as a C1 level student, you can:
Identify technological and scientific matters, like artificial intelligence and new breakthroughs.
Chat on actors, star advocacy, and showbiz.
Make utilize wide range of approaches to foster uniqueness in your oral and written delivery.
Share individual finance management with offer and help others.
Examine methods for conducting research on a vast subjects.
How long does it take to learn C2 English?
Statistically, a student can reach C2 with cumulative instruction of 1000 hours.
The study progress is based on the English class format and the student, an average student can expect 200 hours of C1 English course sessions to level up into C2.
Over this, we recommend the Intensive English Programme (IEP) if you are planning on picking up the language in less than 3 months from any English Level.
Big Ben Academy offers Offline Physical face-to-face English classes and Online remote study for students who require One to One sessions with English private tutors in Malaysia.
If you prefer personalized individual goals and customized experience, Customizable English Course in Malaysia / Private Tutor English Class can be helpful.
For everyday conversation starters who face stutter and word search challenges, it is worth getting English Course For Speaking to get you up for social networking.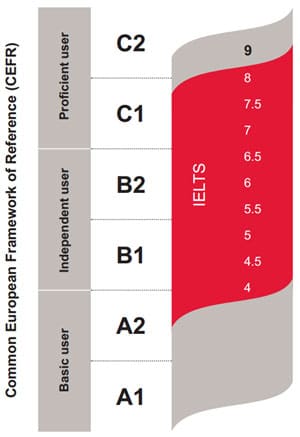 Summary of the student capability at the C2 English Level.
What can a C2-level learner of English do?
Can grasp essentially anything heard or read.
Can summarize data or ideas from both oral and written resources and deliver with eloquently and convincingly.
Can articulate yourself intuitively, cleverly, and effectively, recognizing subtler tones of expression sometimes in highly complicated settings.
For a full guide, check out The Correlation of IELTS and CEFR Scale on your English Level
To determine your English Level, take a test.