A2 English Level, (Pre-intermediate) The Waystage
English level A2 refers to basic language users. Through this level, students in daily settings can use stock words and simple terminology.
The Common European Framework of Reference for Languages (CEFR) is widely used in labelling students' spoken and written levels, English is one of the languages included.
There are six reference levels in CEFR, which are separated into three categories: basic users for levels A1 and A2, independent users for levels B1 and B2, and competent users for levels C1 and C2.
What does A2 level English mean?
English proficiency at A2 level (Pre-intermediate) is upper-beginner is a stage where students passed the A1 English level foundation and are ready to progress next level.
English students at the A2 Level can confidently travel to English-speaking countries and meet other English speakers, however, relationships may meet bottleneck at this level due to the lack of extensive vocabulary in the English library system.
A2 Level may feel challenged in academic study or to digest mainstream English-language sources like Television shows, dramas, radios, magazines, etc.
Based on the official CEFR guidelines, you are on a good head start passing A1 to A2 in picking up English, additional practice and exposure will provide a promising sense of the language.
What is A2 English Proficiency?
The following are brief checklists are organized further for education purposes, this clean language check will help you in assessing your English level, or aid in Teacher assessment to determine a student's English level. You can do what Level A1 can do and meet the new study goal, let's see what they are:
To pass as an A2 level student, you can:
assess the results of colleagues at the job.
describe collective memory, such as adventures and fun encounters.
summarize your former experiences, including information on major highlights.
Engage guests or make a trip to a neighbour or coworker's home.
bring up your travel arrangements, and share them with social circles.
discuss your country's nature and observe wildlife and nature reserves.
share your favourite films and pick one to watch with your friends.
bring up clothes and the type of outfits you prefer to wear.
participate in fundamental business communications, like going to meetings on known themes.
report an incident or injury, seek medical care then fill a request for medication.
Involved in essential business networking, such as greeting clients and visiting networking fairs.
grasp and create basic commercial ideas in your professional field.
elaborate the guidelines of games.
How long does it take to learn A2 English?
Cumulatively, a student can reach A2 with cumulative instruction of 200 hours.
The study progress is based on the English class format and the student, an average student can expect 150 hours of English course sessions for achievement.
Over this, we recommend the Intensive English Programme (IEP) if you are planning on picking up the language in less than 3 months from any English Level.
Big Ben Academy offers Offline Physical face-to-face English classes and Online remote study for students who require One to One sessions with English private tutors in Malaysia.
If you prefer personalized individual goals and customized experience, Customizable English Course in Malaysia / Private Tutor English Class can be helpful.
For everyday conversation starters who face stutter and word search challenges, it is worth getting English Course For Speaking to get you up for social networking.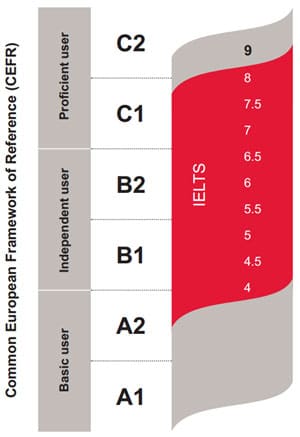 Summary of the student capability at A2 English Level.
What can an A2-level learner of English do?
Able to recognize simple words and everyday phrases on familiar subjects, such as personal and family-related information, shopping, tourist attractions, and jobs
Students may interact during routine, daily chores which primarily call for brief, clear information sharing on subjects they are knowledgeable about.
Able to use easy language to express their experience, history, surroundings, and immediate needs.
For a full guide, check out The Correlation of IELTS and CEFR Scale on your English Level
To determine your English Level, take a test.