C1 English Level (The Advanced)
English level C1 refers to Independent language users. Students at this level can converse with other English speakers as they progressed from the English level of A1, A2, B1, and B2.
The Common European Framework of Reference for Languages (CEFR) is widely used in labelling students' spoken and written levels, English is one of the languages included.
There are six reference levels in CEFR, which are separated into three categories: basic users for levels A1 and A2, independent users for levels B1 and B2, and competent users for levels C1 and C2.
C1 English Level is deemed as Proficient User in CEFR scale, this English learning stage is also referred to as The Advanced.
What does C1 Level English mean?
By the Council of Europe, being a C1 Level English speaker can indicate that you are a free and competitive English speaker, the official reference is Advanced user. At this level, you are comfortable with discovering new trends and conversations with accurate output without the need to study beforehand.
Long discussion of advanced concepts with fluency.
Interpret extensive words and their subtleties.
Sound judgement and perspective despite being out of personal expertise.
What is C1 English Proficiency?
The following are brief checklists are organized further for education purposes, this clean language check will help you in assessing your English level, or aid in Teacher assessment to determine a student's English level. You can do what Level A1 to B2 can do and meet the new study goal, let's see what they are:
To pass as a C1 level student, you can:
tackle success-related troubles, such as assembling a committed, effective workforce.
Describe further your preferred artworks and architectural sites that you appreciate.
Explore challenges in society, viable answers, and the role that business may serve.
Engage in reforestation, ecological, and environmental conversations.
Identify various happenings and concerns as well as how these impact individuals and businesses.
Discuss reality's uncertainties, often about changing careers or participating in challenging activities.
weigh between the difference and types of education and general schools.
Able to differentiate comedy, along with the implicit ones such as irony.
recognize numerous expression methods, everything from straight, indirect, official, and casual.
Share matters regarding the standard of living, like work-life balance and the living place.
identify and evaluate ethical concerns such as passive resistance.
How long does it take to learn C1 English?
Statistically, a student can reach C1 with cumulative instruction of 800 hours.
The study progress is based on the English class format and the student, an average student can expect 200 hours of B2 English course sessions to progress into C1.
Over this, we recommend the Intensive English Programme (IEP) if you are planning on picking up the language in less than 3 months from any English Level.
Big Ben Academy offers Offline Physical face-to-face English classes and Online remote study for students who require One to One sessions with English private tutors in Malaysia.
If you prefer personalized individual goals and customized experience, Customizable English Course in Malaysia / Private Tutor English Class can be helpful.
For everyday conversation starters who face stutter and word search challenges, it is worth getting English Course For Speaking to get you up for social networking.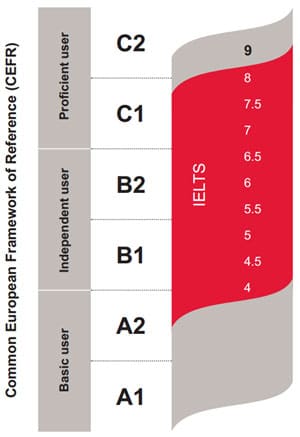 Summary of the student capability at the C1 English Level.
What can a C1-level learner of English do?
Can absorb harder, richer materials and recognize underlying messages.
Individuals can articulate themselves effortlessly and freely, with minimal need to look for the ideal term.
Your English speaking is flexible for social, intellectual, and professional.
Capable of writing logical, with good flow, and thorough content on complex topics.
For a full guide, check out The Correlation of IELTS and CEFR Scale on your English Level
To determine your English Level, take a test.