B2 English Level (Upper-intermediate), The Vantage
English level B2 refers to Independent language users. Students at this level can converse with other English speakers as they progressed from the English level of A1, A2, and B1.
The Common European Framework of Reference for Languages (CEFR) is widely used in labelling students' spoken and written levels, English is one of the languages included.
There are six reference levels in CEFR, which are separated into three categories: basic users for levels A1 and A2, independent users for levels B1 and B2, and competent users for levels C1 and C2.
B2 English Level (Upper-intermediate), also referred to as The Vantage.
What does B2 level English mean?
By the Council of Europe, being a B2 Level English speaker can indicate that you are a confident English speaker, the official reference is upper-intermediate. At this level, you have developed more personal tones and styles in speaking, thus you are self-sufficient in academic and professional sectors, despite a short coverage of polish and accuracy.
You can follow the key points of heavy materials on practical or theories, also certain expert conversations.
You can connect with English speakers freely as expressing yourself became easy and natural.
You can write crisp, detailed content on larger topics and output a refined perspective, pointing out benefits and downsides.
What is B2 English Proficiency?
The following are brief checklists are organized further for education purposes, this clean language check will help you in assessing your English level, or aid in Teacher assessment to determine a student's English level. You can do what Level A1 to B1 can do and meet the new study goal, let's see what they are:
To pass as a B2 level student, you can:
Debate cultural problems relating to disrespectful opinions and value systems.
Analyze your individual wealth management and offer guidance to family and coworkers.
Detail your private and work style, also with a summary of daily encounters.
Specify your qualifications, background, skill sets and flaws, to your professional game plan.
Address thought patterns and the ways you could apply them to boost your work performance.
talk about what you like to read and make recommendations about good things to read.
use appropriate language in social situations, including praising and expressing sympathy.
discuss leadership qualities and talk about leaders whom you admire.
deal with relatively complex awkward situations that arise in social and business contexts.
discuss common political situations and the behaviour of politicians.
How long does it take to learn B2 English?
Statistically, a student can reach B2 with cumulative instruction of 600 hours.
The study progress is based on the English class format and the student, an average student can expect 180-220 hours of B1 English course sessions to progress into B2.
Over this, we recommend the Intensive English Programme (IEP) if you are planning on picking up the language in less than 3 months from any English Level.
Big Ben Academy offers Offline Physical face-to-face English classes and Online remote study for students who require One to One sessions with English private tutors in Malaysia.
If you prefer personalized individual goals and customized experience, Customizable English Course in Malaysia / Private Tutor English Class can be helpful.
For everyday conversation starters who face stutter and word search challenges, it is worth getting English Course For Speaking to get you up for social networking.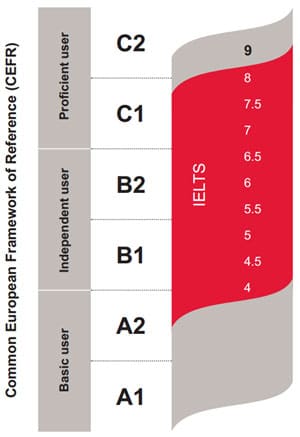 Summary of the student capability at B2 English Level.
What can a B2-level learner of English do?
Catch concepts in a larger context.
Listen to podcasts or live shows in the usual language.
Text messages with a sizable reading vocabulary and a high level of independence.
For a full guide, check out The Correlation of IELTS and CEFR Scale on your English Level
To determine your English Level, take a test.