B1 English Level (Intermediate), The Threshold
English level B1 refers to Independent language users. Students at this level can converse with other English speakers as they progressed from the broad English level of A1, and A2.
The Common European Framework of Reference for Languages (CEFR) is widely used in labelling students' spoken and written levels, English is one of the languages included.
There are six reference levels in CEFR, which are separated into three categories: basic users for levels A1 and A2, independent users for levels B1 and B2, and competent users for levels C1 and C2.
B1 English Level (Intermediate), The Threshold
What does B1 level English mean?
For conversations involving English speakers on common subjects, a B1 level of English will suffice. Individuals with a B1 level of English can read short reports and draft basic e-mails on issues relevant to their job. Yet, a B1 level is incomplete to perform entirely in the English job.
What is B1 English Proficiency?
The following are brief checklists are organized further for education purposes, this clean language check will help you in assessing your English level, or aid in Teacher assessment to determine a student's English level. You can do what Level A1 to A2 can do and meet the new study goal, let's see what they are:
To pass as a B1 level student, you can:
Share about career and individual goals for the coming years.
Set a work meeting or interview for a position within the field of speciality.
Comment on your Television viewing preferences and shows you like.
Share your music playlist and music patterns, and organize an evening to enjoy live music.
Bring up a healthy lifestyle to share and receive tips on good behaviours.
discuss relationships and romance, which include contacting individuals on social networks.
Visit a diner, get food, make a well-mannered table chat, and check to pay the bill.
Contribute to dialogue in your field of speciality, in case you help clarify facts.
talk about workplace safety, file an accident, and clarify the policies and guidelines
Address good conduct and react to the harsh attitude in a proper manner.
How long does it take to learn B1 English?
Statistically, a student can reach B1 with cumulative instruction of 400 hours.
The study progress is based on the English class format and the student, an average student can expect 200 hours of English course sessions for achievement.
Over this, we recommend the Intensive English Programme (IEP) if you are planning on picking up the language in less than 3 months from any English Level.
Big Ben Academy offers Offline Physical face-to-face English classes and Online remote study for students who require One to One sessions with English private tutors in Malaysia.
If you prefer personalized individual goals and customized experience, Customizable English Course in Malaysia / Private Tutor English Class can be helpful.
For everyday conversation starters who face stutter and word search challenges, it is worth getting English Course For Speaking to get you up for social networking.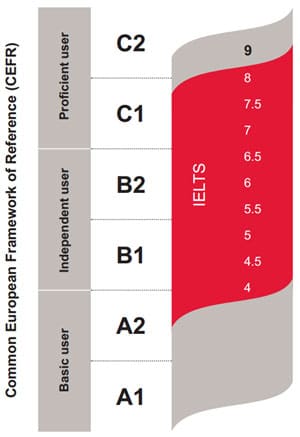 Summary of the student capability at B1 English Level.
What can a B1-level learner of English do?
Can follow the major ideas of simple writings on known matters presented in standard English.
You can handle many scenarios when flying to countries where English is spoken.
You can make clear and precise, well-organized sentences on subjects you know.
You may express your past or activities, as well as your encounters, events, desires, and ambitions.
For a full guide, check out The Correlation of IELTS and CEFR Scale on your English Level
To determine your English Level, take a test.