January 5th, 2022
Owens Ooi
The Differences Between British English and American English
---
This is an ultimate guide to learn more about British English and American English. In this article, I will share my language learning thoughts and useful advice on how you can speak English like your native language.
Despite how much the United States and the United Kingdom have in common, their forms of the English language differ enough that a person from one country may not always understand what someone from the other is saying.
Table of Contents
What is the Differences Between American and British English ?
First, give yourself a simple test. The following show two sentecnes, which one would you prefer to use in your daily conversation?
I want to eat some chips.
I want to eat some fries.
They are both correct but different styles when it comes to the comparison of American English and British English. The meaning of words are definitely the same but can also be different as the divergence of British English has retained the spelling of words it has absorbed from other languages such as French and German.
Here are some examples,
Kindergarten -is actually one of the German loanwords. It refers to an actual garden for children. Interesting right ?
Wanderlust - a combination of German words wandern (to hike) and lust haben (to feel like)
Spelling Differences
There are several spelling distinctions between British and American English.
| British English | American English |
| --- | --- |
| Colour | Color |
| Centre | Center |
| Paralyse | Paralyze |
Prepositions
There are also a few differences in preposition use including the following:
American English - on the weekend
British English - at the weekend
American English - on a team
British English - in a team
Most essential, you must be consistent in your application. If you opt to use British English, make sure your spelling is consistent.
Vocabulary Differences
Vocabulary differences definitely exist in the context of American English and British English. There are some words that differ from each other. There are hundreds of everyday words that are different.
For instance, the British call the back of a car the boot, while Americans call it the trunk.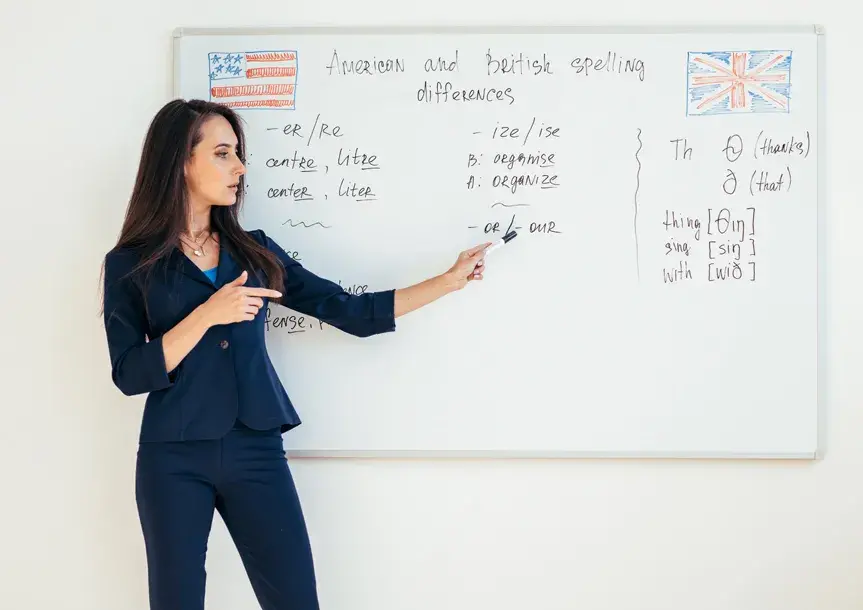 Differences In Grammar
There are several grammatical differences between American and British English.One of the major differences is collective nouns. We use collective nouns to refer to a collection of people or objects as a whole such as team, staff.
"The whole team was/were on a company trip last week. " may be heard among the british.
Collective nouns are singular in American English. For example, "The whole team was on a company trip last week.
Another distinction between American and British English grammar is the use of auxiliary verbs. Auxiliary verbs are verbs that assist in the formation of a grammatical function. They support the primary verb by providing time, modality, and voice information.
For instance, "I shall eat now." The word "shall" seems very formal so Americans rarely use "shall" in their daily conversation. Normally, Americans would probably use "I will/ should eat now."
How can I get a British or American accent?
1. Listen and pay attention to the way that British and American speak English
Well, first you have to listen to the way that the British and Americans speak. To begin your English journey and if you hope to start sounding more native, watching TV shows on the BBC or Netflix may be the best choice for you. Pay attention to how the presenters utilize their mouth and tongue as well as how their lips move. Moreover, focus on the sounds that are coming out of their mouth. Try to imitate the style and speaking gesture and make sure you don't miss out every single scene.
2. Change your English accent, follow their specific accents and dialects
Some pronunciations of English words differ in terms of British English and American English. For instance, when you are trying to park your car outside the mall. Speak pa:rk (American English) or pa:k (British English).
| Word | British English | American English |
| --- | --- | --- |
| ask | /a:sk/ | /aesk/ |
| what | wat | hwat |
| far | /fa:/ | /fa:r/ |
3. Find a English tutor to teach you speak like a native
Finding a tutor who is a native speaker to teach you is the best way to learn an accent. You can take an English course with an English tutor. It is very necessary and important to find a good English tutor and academy as you can receive real time feedback on your accent and vocabulary.
Moreover, the tutor will be able to speak with you directly and help to identify areas that you need to improve on. One thing to keep in mind is that you will need to decide which accent you want to learn, for example, British English or American English. This is because different accents will have different teaching approaches and different English structures. If you are dedicated to learning English, you may find Big Ben Academy.
There are certain differences between American English and British English. However, using the former (American English) or the latter (British English) will not lead to a serious issue of miscommunication because they are both standard English. In fact, British and Americans can usually communicate easily.
Most of the time, Malaysians use British English. Visit Big Ben Academy - English Course Malaysia to check out more Engish courses if you wish to improve your English!