December 16th, 2022
Riff C.
British Council Malaysia: An Overview
---
Big Ben Academy as a low-cost English course school, will explain the history of the British Council and the various services it has contributed to society over the years.
For exchange students in Malaysia or those planning to study here, an IELTS program pass or English-level preparation may be desired.
We're sure that the topics we cover will give our readers a lot of value in terms of the British Council Malaysia overview and IELTS background, course fees, how much it costs, and how to achieve proficiency.
In this article, we will take a closer look at British Council in Malaysia, exploring its history, mission, English programs, and impact on the country.
Table of Contents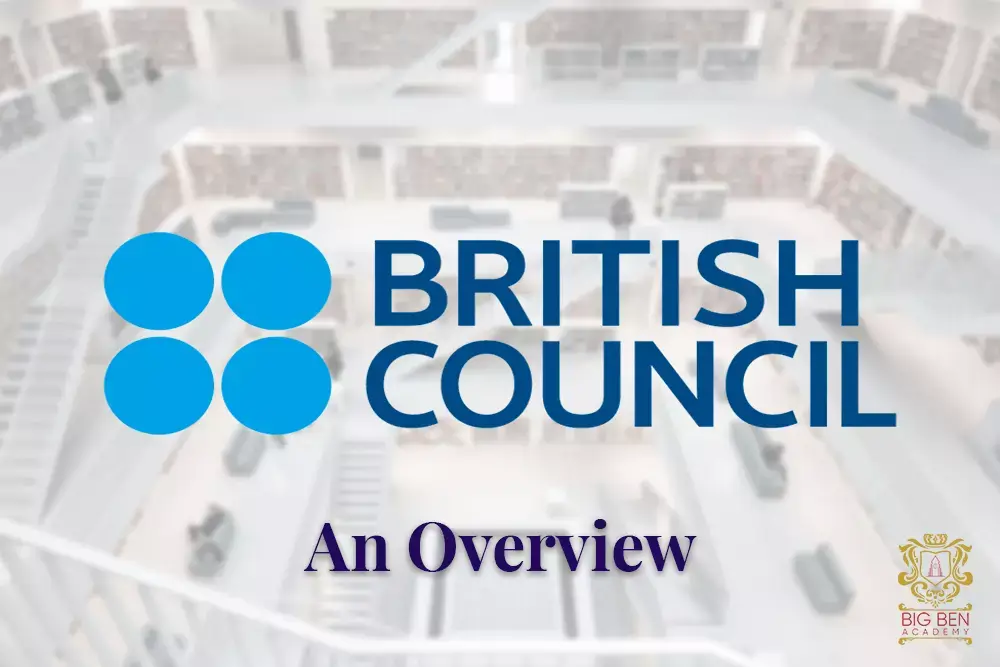 Who is the British Council?
The British Council is an organization that works all over the world to improve education, culture, and learning opportunities. It was started in 1934 and is one of the largest cultural and educational organizations in the world. It has a presence in more than 100 countries and has expanded into more than 200 countries and territories.
OverFrom its headquarters in London, it works with governments, businesses, cultural institutions, and educational organizations in each country to provide access to educational and cultural resources. It also provides support for British nationals who are living or studying abroad.
The British Council helps people from different countries and cultures understand each other by promoting understanding, learning, and respect. Through its work, it helps to create a more inclusive and sustainable world.
The British Council also hosts a range of projects related to the arts, sports, education, technology, the English language, society, etc.
What does the British Council do in Malaysia?
Arts-related projects
Connections Through Culture (CTC)
The British Council was founded to promote harmony, diversity, and inclusion between the people of the UK and the global community.
The British Council Malaysia engages in social enterprise. Artworks have played a key role in the goal of making connections and comprehending each other through making art.
People in the UK and Malaysia were brought together to share their cultures and traditions with each other and to improve their skills by working on projects. In August 2019, an initiative was started to improve relations between the UK and East Asia.
This grant program is open to people from the UK, Indonesia, Malaysia, Myanmar, the Philippines, Thailand, and Vietnam. Its goal is to encourage people from these countries to share ideas and work together.
Applicants from East Asia in the following industries are eligible:
Creative artist

Individuals in culture and art

Art groups, associations, or entities

Researcher groups
The initiative takes into account the different ways people in each region express their culture and gives people help, information, advice, and opportunities to network so they can move up in their careers.
Beneficiaries from both the UK and East Asian countries find it inspiring to talk about their cultural legacies and exchange ideas.
Sport-related projects
Premier skills
Premier Skills was a first-of-its-kind partnership between the British Council and the Premier League of Football. It gave young people, especially those from vulnerable communities, the chance to train and coach in football, thus:
enhance their relationship with their surroundings

cultivating abilities for them to be more desirable to employers

boosting self-esteem and assurance.
Education-related projects
FAMELAB INTERNATIONAL
This is a British Council science communication competition open to people who are involved in science subjects through study or work.
The British Council and the Malaysian Industry-Government Group for High Technology (MIGHT) worked together to start FameLab Malaysia in 2015.
373 contestants have participated in the event, and this year, 67 people have applied. The competition is open to Malaysians over the age of 21 who work in science, engineering, technology, medicine, or mathematics and have a strong interest in public engagement.
This provides chances for everybody to have a learning experience and will spark interest in science and raise the curiosity of participants or audiences to explore more.
Since 2007, FAME Lab has been a successful program with the British Council, which:
trained and mentored thousands of youngsters in the sciences and engineering fields to express their passion for the subjects to a larger audience.

competition has grown to span more than 35 countries

and over 54 million views on media outlets every year.
This, in turn, helps alumni take ownership (a long-term goal) by building the Malaysian Science Communication Network.
Higher education sector
International skills partnership programs: Malaysia-run vocational programs.
Currently, two programs with the British Council are being considered: I-work and the Prosperity Fund project, which focuses on developing polytechnics and community colleges.
Since the British Council works all over the world, it uses what people have learned in different places. These insights from different fields backed up their projects effectively and benefited millions of people.
The British Council helps both students and teachers by providing training and education in English. This makes it easier for people from other countries to learn in the UK.
British Council Malaysia and IELTS (Relationship)
The British Council, IDP: IELTS Australia, and Cambridge English are the three international groups in charge of the IELTS (International English Language Testing System).
All are devoted to teaching and bringing people from different cultures together.
As a result, they are the ideal bridge for international English tests.
The British Council also gives candidates more choices for exam dates and locations and gives them free materials to help them study for the exam.
Checkout Effective Certified Native IELTS Preparation course by Big Ben Academy
Benefits of IELTS by British Council in Academic and Professional Career
IELTS is very important if one consider to further your study. It is even more important for those planning to study abroad in an English-speaking country.
Most courses offered by universities today require a score of 7 or higher, so getting a good IELTS score will help you get the course you want and give you more options for universities.
Furthermore, the British Council's IELTS grant Advantages in Profession or Career - Different professions and careers will need a different level of knowledge, while all of them have their own professional terms.
To understand the nature of the procedure and how it works, good English will definitely help in the learning process.
The British Council does offer English language classes, programs to help people improve their professional communication skills, and tests that help employers train their employees.
Scalable training solutions are delivered face-to-face or online by qualified experts.
The corporate consultants would discuss how to develop learning programs that are appropriate for the organization's goals, budget, and procurement processes.
Following implementation, it aids in monitoring employee progress, improving training impact, and team success.
British Council in Malaysia initiates such a transformation of the Malaysian workforce, the only downside may be the lack of proficiency or foundation among university graduates or the existing labour force.
Where we may observe the difficulty for graduates to start picking up English language without early education access.
As for corporate professional English courses, the cost that will be imposed on the human resources training department within corporate functions.
As a result of limited budgets, eager professionals may seek their own way of getting Fast Track Intensive English course to quickly adapt and climb the corporate career ladder.
Types of English Courses at The British Council Malaysia
Classes to improve oneselves:
If you feel like you've reached a dead end in your career or education, the British Council offers courses for people at all levels of English.
To ensure the course is suitable, they offer a free consultation online. Applicants can choose to have the consultation over the phone or in person.
Prior to the consultation, the English level will be examined with a simple online test, and the results will be discussed during the consultation to make sure the best course is chosen.
Note: Course prices are often higher than average for known-quality delivery.
The British Council Malaysia works to build bridges, understanding, and trust between people from the UK and people from other countries around the world. This is done to promote peace and growth.
Top-ranking English courses and classes
British Council Malaysia tutors with extensive qualifications offer active, enjoyable English classes and programs both in-person and online.
To make sure you feel safe using English in the settings that matter most to you.
With over 80 years of experience in providing English language education and relied on by more than 100 million students around the world each year.
Offline: Physical Face to Face Classroom
| | | |
| --- | --- | --- |
| English Class | Types of English course | Location |
| MyClass - English course | English class designed to elevate personal English levels to reach educational, professional, and individual objectives. | Kuala Lumpur, The Curve |
| IELTS Coach | This program is created to enhance language capabilities and test-taking tactics, which will guarantee a satisfactory IELTS score of at least 6.5*. | Kuala Lumpur, Malaysia |
| SMART English Penang (Intensive) | A full-time course for improving your English proficiency quickly, focusing on the essentials; grammar, vocabulary, and skills work. | Penang, Malaysia |
| Business Communication Skills | This course provides an engaging learning experience that will equip you with the essential abilities to interact in the current corporate world. | Penang, Malaysia |
Online and Offline English Class
English Class

Types of English course

Location

One-to-one IELTS Practice Session

One-to-one tutoring from IELTS teachers.

Laser focus on the areas you desire to develop.

Both classroom and online learning options are available.

Classroom or Online
Offline: Physical Face-to-Face Classroom
English Class

Types of English course

Location

Professional Business Skills Online




12-hour and six-module courses designed to simplify work in your industry.

Conducting in Online classes

IELTS Coach: Get tutored by an IELTS exam paper author.

A uniquely tailored IELTS preparation course conducted by experienced IELTS teachers.

Fast track to success by taking part in online group and individual live sessions.

Live or Online sessions




English Online: 100% online teacher-led course

Boost your English aptitude and assurance. Learn online in small group classes or choose one-on-one private sessions. Select your own timetable and topics.

Live or Online sessions

EnglishScore Tutors

A private coaching service of 30-minute one-on-one digital English classes.

Online sessions

English Online: Self-study course

Study English at your own pace with lesson plans created by English language professionals. Convenient and cost-effective learning.

Live or Online sessions
Alternative to the expensive British Council course?
Big Ben Academy understands the expensive education that may result from the international brand.
Hence, a local Malaysian brand with an effort and vision steps out to provide affordable and cost-efficient courses that allow customization, convenience, and flexibility in the learning syllabus to suit a selective schedule.
Find your English courses here
For free alternative, Big Ben Academy research has found ELLLO. It has more than 3000 free English listening lessons for all levels, from beginners to experts.
Listen to authentic conversations from native English speakers or watch videos with international speakers. With their free book and worksheets, you can also learn the basics of grammar from their 100+ short animations that feature four dialogues each.
ELLLO also has lessons on academic English, like reading and listening to news stories, using idioms in conversations, and taking STeP reading tests.
Big Ben Academy English Course in Malaysia
Big Ben Academy offers all well-known English courses to students of all levels of English.
If you are a new English speaker, we can help you become familiar with the fundamentals;
if you are a more adept student, we will help you attain a higher degree of fluency.
Our native teachers are knowledgeable and dedicated to helping you achieve your goals.
The program's lessons cover a wide range of subjects, from grammar to pronunciation and comprehension.


With the interactive use of activities, real-life conversations, and genuine materials, it allows students gain exposure to genuine English.
Studying for English and IELTS exams can be affordable with Big Ben Academy.
Big Ben Academy welcome you to discover our courses and transforming your academic and professional lives by making an appointment.
Big Ben Academy offers regular lessons in the classroom, as well as virtual classes for people who want a more flexible way to learn. Online classes are done over video conferencing and offer the same top-notch instruction as in-person classes.
You can be confident that their English course will help you reach your linguistic objectives. So why wait?
Sign up with Big Ben Academy today and begin your sail towards commanding the language!
FAQ for British Council Malaysia
How long has the British Council been in Malaysia?
British Council has operated in Malaysia for over 70 years, since 1948.
What are the English Courses offered by British Council Malaysia
British Council Malaysia offers Offline and online learning method, both Face to Face Classroom and online English Class.
How does the employer validate the employee is competent with British Council Malaysia?
One of the ways for employees to prove themselves is through the results of IELTS. It doesn't imply that the result is all that the employer considered, but at least it makes sure that both parties can communicate and have a valid certification of language proficiency and comprehension.