Academic and Business
Writing Program
In this course, students focus on understanding the demands of different styles of writing and work to improve grammatical correctness, vocabulary, tone, diction, and editing, all in the areas of academic and business writing.
Students will have the opportunity to write on a number of different topics and ideas, always centered on areas of interest to the students.
Course Objective
Demonstrate and apply knowledge of English writing, which specifically focus on essay writing.
Accommodate students in structure writing for academic purpose.
Emphasise on writing in concise sentences and readable sentences.
Well used idiomatic vocabulary and sentences.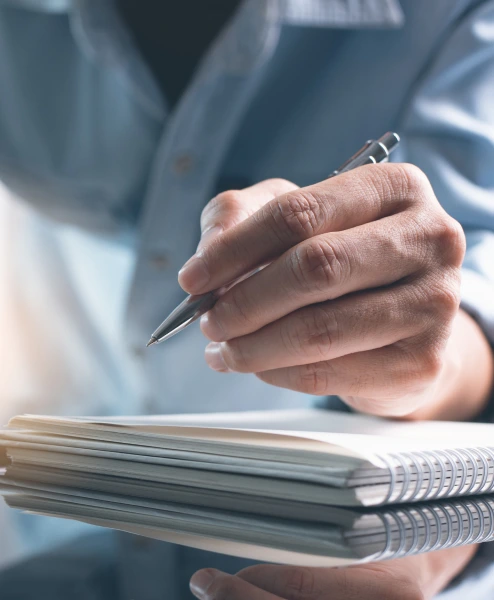 In this module, you'll discover the simple principles that inform all great academic and business writing. And that serves as the foundation of this course. These lessons set the stage for the deeper exploration and specific techniques that follow, This module teaches the essential academic and business writing best practices professionals are using today to write clear, effective, professional writing, including email, memos, letters, reports, and other documents. So Let's get started!
This module teaches you the universal organizational formula that allows you to optimize your writing skills. You'll understand how the principles you learned in Module One build to this formula, and you'll see how a scaffold gets created and applied to a real document. This module contains grammar training, including punctuation, spelling, and sentence structure, and our teachers will focus more on providing the writer who has some usage problems with the instruction to make his or her writing clear.
Any one can string a series of sentences together. But real authorities peel off redundant layers to get to the core of their message. They ignore irrelevant thoughts. They don't side-step into interesting information that might be related but that's not relevant. Wishy-washy writing lacks focus. It communicates too many different ideas. So, in this module our teachers will share their knowledge on how to correct your writing process focusing more on developing your grammar, language, punctuation, spelling, word usage, sentence structure, organization, clarity, conciseness, professional presentation, and any other areas you need to work on.You will learn new patterns to replace the old by using your own sentences.The teaching, practice, and tests are based on your own writing.
This Module takes you beyond your hierarchy and trains you to elevate your language, infuse your writing with clarity, and amp up your ability to communicate your ideas effectively. Every lesson in this module is based on the principles you learned in previous modules, and they form a checklist of techniques that you can apply to any business / academic document to insure your ideas shine on the page. This is the final course in the Academic and business writing program and it is a more advanced writing course. It will help you raise the level of your writing and make you more aware of the type of writing you can expect in college. You'll learn what plagiarism is and how to avoid it using correct MLA citations. Also, you'll learn to write a synthesis essay, which will help develop your critical thinking skills. Finally, you'll write a documented essay, which will help further enhance your skill of using outside sources in your writing.
Class Size
6-12
Students
Pax Max /class
Location
K.L.
(malaysia)
Online
Program Module
Coursebook specially
designed by BBC London
Classes held by
CELTA Qualified Native teachers
Supportive and Interactive
Learning Experience
12 students max
per class
Education Excursion
for students
You Might Also
Interested In…